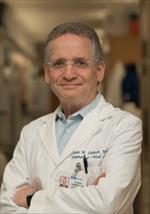 Steven M Dubinett
Dean, Deans Office-School Of Medicin, University of California Los Angeles
Professor, Medicine, University of California Los Angeles
Professor, Pathology and Laboratory Medicine, University of California Los Angeles
Professor, Molecular and Medical Pharmacology, University of California Los Angeles
sdubinett@mednet.ucla.edu
(310) 267-2725
Steven M. Dubinett is director of the UCLA Clinical & Translational Science Institute, Associate Vice Chancellor and Senior Associate Dean for Translational Research. He oversees the translation of UCLA biomedical discoveries into medical products and health interventions and is responsible for the efficient integration of the research infrastructure through the CTSI. He is former Chair of the Executive Committee of UC Biomedical Research Acceleration, Integration, and Development (UC BRAID), which integrates clinical and translational research across the University of California. Dr. Dubinett has extensive experience in translational investigation, academic administration, mentorship and peer review. He has trained more than 45-graduate students, post-doctoral fellows and junior faculty, nearly all of whom have continued in academic or industry research careers. Building on original discoveries relevant to inflammation and immunity in lung cancer, he developed a translational research program, which utilizes these laboratory-based discoveries in the translational and clinical environment. As a NCI Translational Research Working Group member, he participated in designing pathways to clinical goals. He previously served as Director for Biomarker Development for the American College of Surgeons Oncology Group, directing biospecimen utilization in the context of clinical trials. Dr. Dubinett serves as the Chair of the Research Evaluation Panel for biospecimen utilization for the American College of Radiology Imaging Network/ National Lung Screening Trial. He previously chaired the FDA Cellular, Tissue & Gene Therapies Advisory Committee and serves on the NCI Thoracic Malignancy Steering Committee as a Translational Science.
Interests
pathogenesis of lung cancer, translational research, immunobiology of lung cancer, human non-small cell lung cancer, microenvironment, inflammation and epithelial mesenchymal transition, lung cancer
Education and Training
| | | | |
| --- | --- | --- | --- |
| Harvard Medical School | Resident Fellow | 06/1988 | Tumor Immunology |
| Massachusetts General Hospital | Fellow | 06/1988 | Pulmonary Medicine |
| University of California, Los Angeles | Chief Resident | 06/1984 | Internal Medicine |
| University of California, Los Angeles | Residency | 06/1983 | Internal Medicine |
| University Hospital | Internship | 06/1981 | Internal Medicine |
| Rutgers New Jersey Medical School | M.D. | 06/1980 | Medicine |
Awards and Honors
New Investigator Award, UC Tobacco-Related Disease Research Program, 1990.
Career Investigator Award, American Lung Association, 1996.
William S. Middleton Award, U.S. Department of Veterans Affairs, 2019.
2019 Lung Force Honoree, American Lung Association, 2019.
Continued Support and Dedication to their Mission and the Advancement of the Field of Lung Cancer, Uniting Against Lung Cancer, 2012.
Cecile Lehman Mayer Research Award, American College of Chest Physicians, 1987.
American Thoracic Society Recognition Award for Scientific Accomplishments, American Thoracic Society, 2008.
46th Annual Harold J. Jeghers Memorial Lecture, 2014.
Young Investigator Award, Southern California Pulmonary Research Conference, 1989.
UCLA rep. for research presentations/signing ceremonies for translational medicine agreements, Chinese Academy of Sciences in Beijing and Shanghai with Chancellor Gene Block, 2011.
Chair, FDA Cellular, Tissue and Gene Therapies Advisory Committee, 2011.
The Stanley Blatt Award for Lung Cancer Research, 1999.
Dwyer Award, Jonsson Comprehensive Cancer Center, 1994.
Helen Neufeld Research Career Development Award (Stop Cancer Award), 1995.
Medical Excellence Award, Barlow Respiratory Hospital, 2014.
The Philip J. Browning Memorial Lecture, Meharry Medical College/Vanderbilt Ingram Cancer Center, 2009.
Publications